Burial Places/Cemetery Issues
PAF Home
Back to Activities & Events
This page contains:
Burial Ground Database
'Burial Grounds Forum' Round-up
Philadelphia Burial Grounds 'News Coverage'
'Archaeology Reports & Articles' on Philadelphia Burial Grounds
THE BURIAL GROUND DATABASE

…As longtime advocates for those who can no longer speak for themselves, PAF is lobbying for clearer municipal laws that compel developers to handle such [human skeletal] remains respectfully. The nonprofit also plans to release a comprehensive database with 117 historic burial grounds in central Philadelphia, with the hopes that consulting it becomes part of the planning process for new development…..

…the earliest known discovery of unmarked human remains in Philadelphia dates back to 1743. Since 1800 there have been 85 separate, documented incidents of unmarked cemeteries in Philadelphia being impacted by construction at 52 different historic burial grounds (some had repeat offenses)…..

….Of these, 20 unmarked cemeteries have been affected since 1985 — the last time the Philadelphia Historical Commission's ordinance was updated, granting it expanded rights to protect archaeological resources.

….It is PAF's intention that consulting the database of known cemeteries and private family plots — the organization plans for it to be hosted on a public platform — becomes an integral part of the due diligence process for both developers and the city of Philadelphia when considering new projects. Knowing what to expect could reduce the frequency of these instances, help ensure the respectful disinterment and reburial of historic human remains at a more permanent resting place, and allow developers to plan their construction budgets and timelines appropriately…..

The database, originally the personal research of archaeologist Kimberly Morrell, has been assembled from historic maps, newspapers, academic theses and other sources. Research is ongoing, but the database is the most comprehensive such resource to date…..
Read about this database in NEXTCITY'S story, Philadelphia Plans for Future Density Require Dealing With Historic Sites, written by Karen Chernick (October 25, 2017).
______________________________________________________


'Burial Grounds Forum' (June 2017)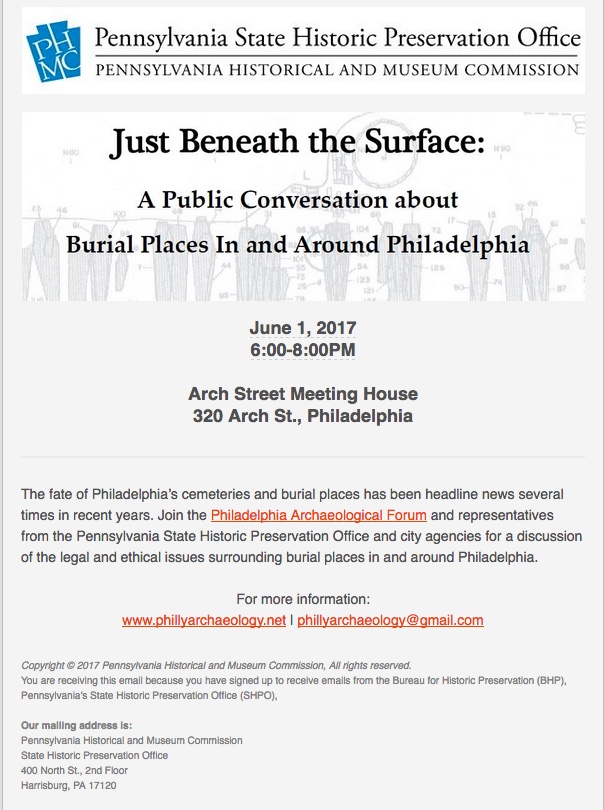 In this July 2017 Forum, Philadelphia Archaeological Forum President Doug Mooney provided a history of burial grounds 'lost and found' and impacted overtime. Philadelphia's cemeteries have been repeatedly researched and mapped. Several examples of when burial places have been recorded were shared with the Forum audience, including this image of a 1940s register. Historical newspaper coverage was also used to demonstrate that the location of many cemeteries and burial places can be identified in records. One such example, from the Philadelphia Inquirer in 1889, identified 180 cemeteries in the city.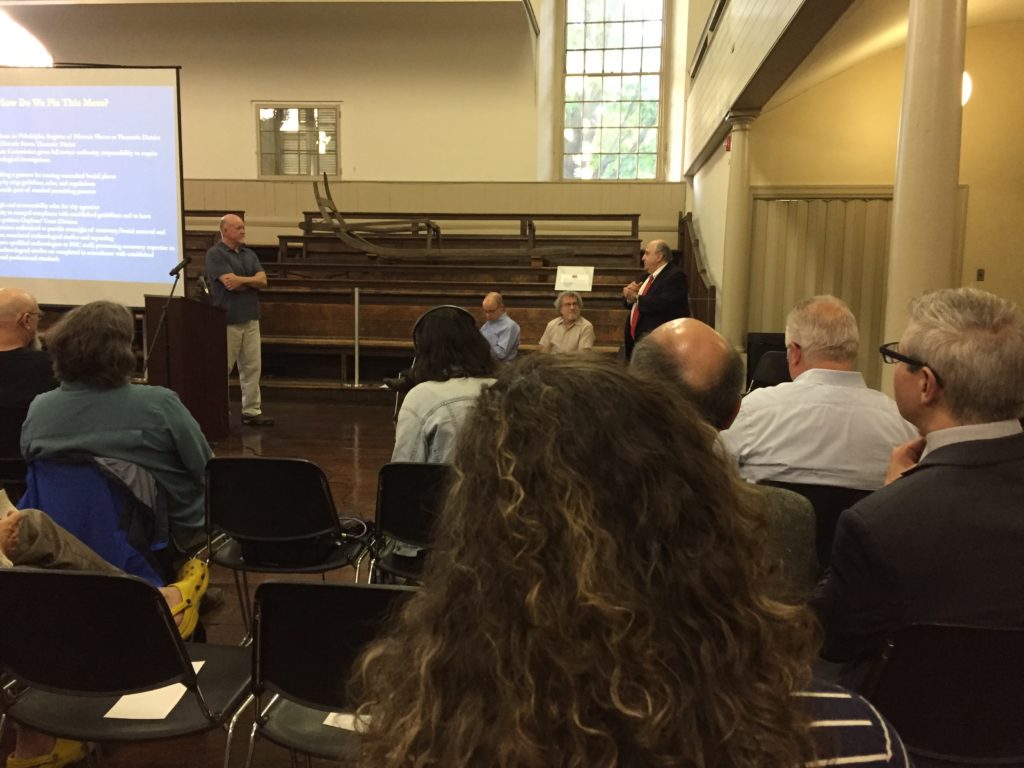 The forthcoming Philadelphia Historical Burial Places Database was also introduced during the Forum. Much of this resource, which will be available soon at OPENDATAPHILLY(https://www.opendataphilly.org/), is being built from historical and archaeological records originally investigated by archaeologist Kimberly Morrell

The 5-Point Plan proposed by the Philadelphia Archaeological Forum during the Forum to deal with Philadelphia burial places:
1. Establish an official policy that historic burial places are important elements of the city's historical legacy and are worthy of preservation.
2. Create a database/registry of all known historic cemeteries and burial places. (*underway)
3. List all historic burial places in the Philadelphia Register of Historic Places as a Thematic District.
. Similar to existing Historic Streets Thematic District
. PHMC given full review authority; responsibility to require appropriate archaeological investigations.
4. Pass an ordinance establishing a process for treating unmarked burial places.
. Clear, concise, step-by-step guidelines, rules, and regulations
. Cemetery review made part of standard permitting process
5. Establish clear oversight and accountability roles for city agencies
. L&I given authority to compel compliance with established guidelines and to have responsible party petition the Orphan's Court Division.
. Historical Commission authorized to provide oversight of cemetery/burial removal and relocation process, associated archaeological studies and
reporting.
. Add 1 or more qualified archaeologists to Phia. Historical Commission Staff; possessing necessary expertise to ensure all archaeological studies
are completed in accordance with established guidelines and professional standards.
News Coverage about the Forum can be found below.
More forum images…
____________________________
IN THE NEWS…
*Note: Philadelphia Inquirer Archives are behind a paywall.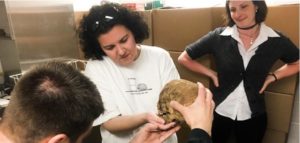 October 31:218 Arch St remains, PlanPhilly, Oct. 31, 2017


Bones from 407 human skeletons tallied in court report on Arch Street building site, Philadelphia Inquirer, Oct. 30, 2017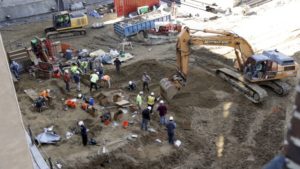 Archaeologist claims hundreds of 18th-century Philly remains may have been dumped in landfill, WHYY, Oct. 30, 2017.



Philadelphia Plans for Future Density Require Dealing With Historic Sites, NextCity, by Karen Chernick, October 25, 2017
Old City Remains Discovery Prompts Protocol Change, CBS Philly, June 1, 2017.
First Baptist Church Burial Ground (218 Arch Street)
'How do we fix this mess?' Philly archaeologists lay out plan to preserve lost burial grounds, NewsWorks, June 4, 2017.
How Philly could fix its construction-crews-disturbing-dead-bodies problem, Archeologists say Pennsylvania needs to reform "terrible" — or write new — laws., BillPenn, June 2nd, 2017
Proposal made to solve a Philly riddle: What to do when you dig up old bones, Philadelphia Inquirer, June 2nd, 2017. *Archived Philadelphia Inquirer articles are behind a paywall.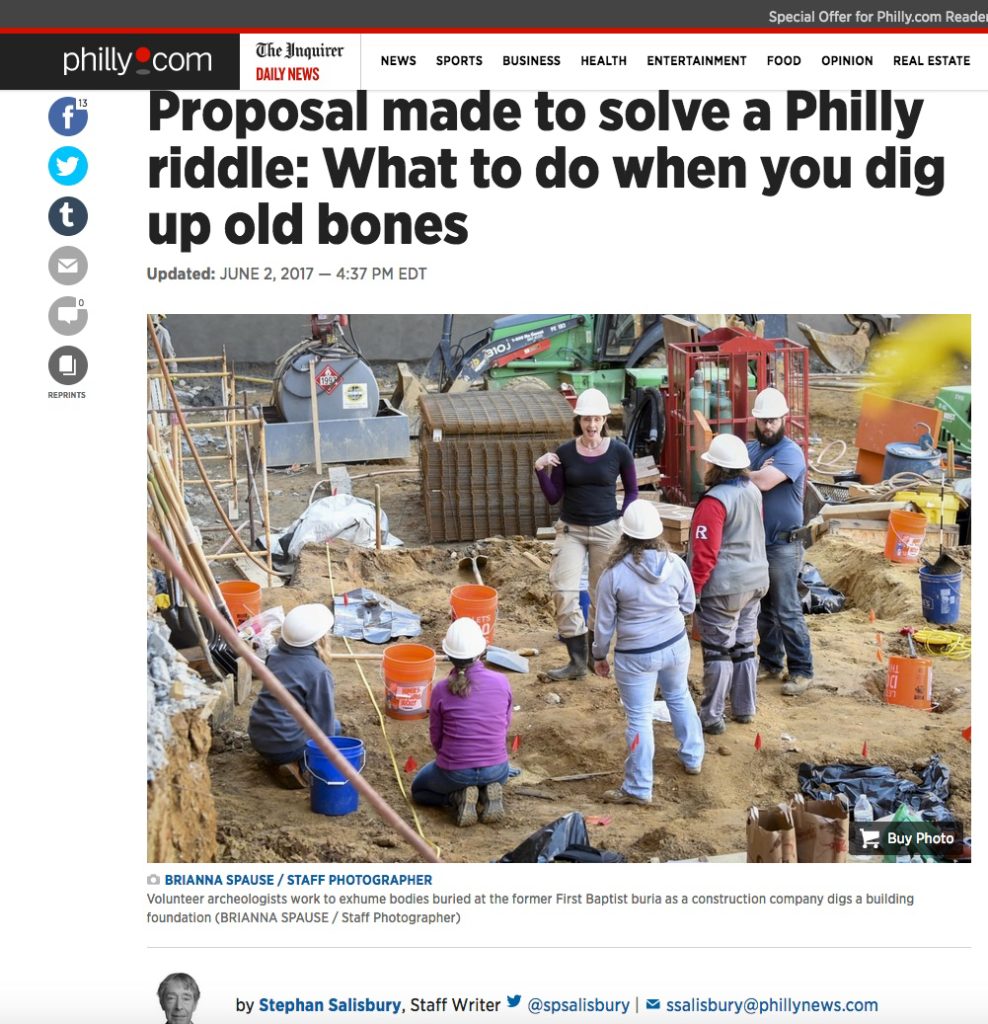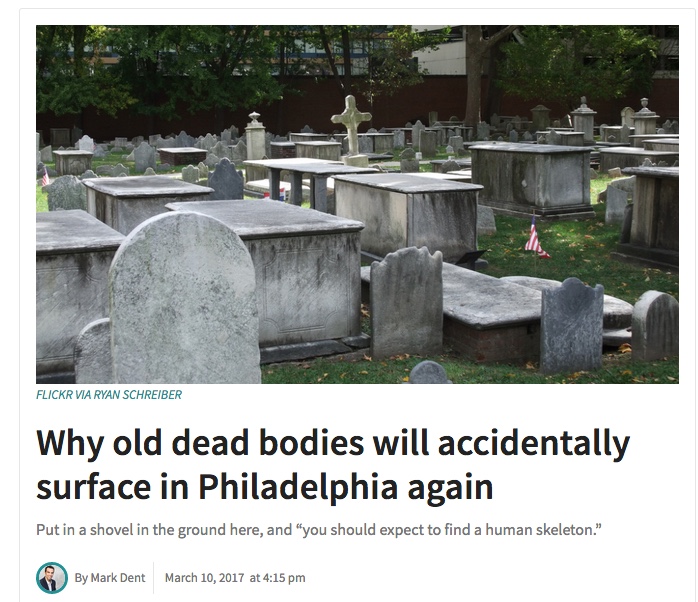 Read WHY dead bodies with be found again at BillyPenn…, in the article Race to dig at historic cemetery a mere hint of what ails Philadelphia's oversight of buried treasures by Stephan Salisbury in the Philadelphia Inquirer, in the Hidden City article Emergency Excavation In Old City Reveals Lack Of Oversight, and in this Philadelphia Inquirer commentary, Historic grave removal should not be hurried, by Ronnie Polaneczky.
Read more, including the early news coverage dating to October 2016 here (scroll to '218 Arch Street/First Baptist Church Burial Ground')
+++++++++++++++++++++++++++++++++++++++++++++++++++++++++++++++++++
RESEARCH & REPORTING ON THE
ARCHAEOLOGY OF BURIALS IN PHILADELPHIA….
*************************************************************************
A Distinct Church of the Lord Jesus": The History, Archeology, and Physical Anthropology of the Tenth Street First African Baptist Church Cemetery, Philadelphia, Pennsylvania, Site Number 36 PH 72, Vine Expressway (1-676), L.R. 67045, ER# 82-0133-101-W Prepared for Gaudet & O'Brien Associates/Urban Engineers, Incorporated 300 North 3rd Street, Philadelphia, Pennsylvania 19106-1193 and Department of Transportation, Commonwealth of Pennsylvania, Engineering District 6-0, 200 Radnor-Chester Road, St. Davids, Pennsylvania 19087. By Thomas A.J. Crist, Reginald H. Pitts, Arthur Washburn, John P. McCarthy, Daniel G. Roberts, with Contributions By Molly A. Hickey and Rashid M. Humphrey, John Milner Associates, Inc., 1216 Arch Street, 5th Floor, Philadelphia, Pennsylvania 19107. 1996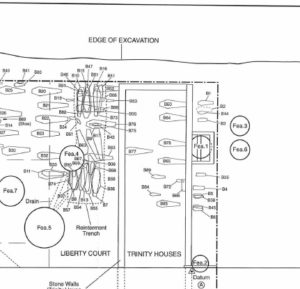 This is the final report prepared for an archeological data recovery project conducted in 1990 at the site of a former cemetery used by the First African Baptist Church between 1810 and 1822. The site was excavated as part of the Vine Street Expressway (I-676) Construction Project, undertaken by the Pennsylvania Department of Transportation and the Federal Highway Administration. The skeletal remains and funerary artifacts of 89 African-American individuals recovered from the site — individuals associated with the earliest free African-American Baptist congregation in Philadelphia — revealed important information on the demography, health quality, prevalence of disease and trauma, patterns of physical stress, and levels of nutritional adequacy for a group of people about which little historical documentation exists. Analysis of the burial practices at the cemetery revealed the incorporation of Christian mortuary traditions into the African American funerary rite, links between the funeral industries in England and Philadelphia during the early 19th century, and the marginal economic position of this segment of early Philadelphia society. "The historical development of the Church was found to reflect the attempts by early African Americans in Philadelphia to establish their own identity within an Anglicized society and to foster social institutions that supported African-American self-sufficiency and social cohesion. The cemetery project reported here is the successful result of a partnership between public agencies, private companies, archeologists and physical anthropologists, and members of the descendant community. [Due to its size, this report is not accessible directly online at this time. Please contact pljeppson@gmail.com, the PAF web Master, to request a copy be emailed.
*************************************************************************

The Washington Avenue Project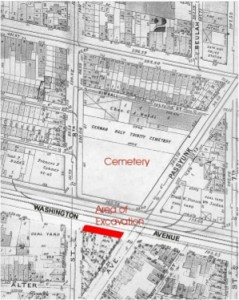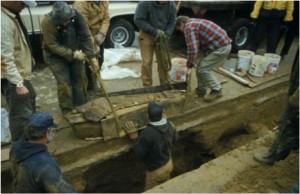 On October 22, 2001, along the 700 block of Washington Avenue in south Philadelphia, construction workers exposed human remains and several wooden coffins during a routine project to install a new city water line as part of a street repaving project. Two reports resulting from this project are posted here. One report, PARTNERING IN A SOUTH PHILADELPHIA DIG: THE WASHINGTON AVENUE BIOARCHAEOLOGY PROJECT, is drawn from a formal poster by A. Washburn, T.A. Christ, M.B. Goldberg, and M. Kirkpatrick that was presented at the 2007 Meeting of the American Association of Physical Anthropologists. The Second, Summary of Archaeological Salvage of Burials, Washington Avenue, Philadelphia, is referenced here as The Washington Avenue Project, which is how the project is known within the archaeology community. This report was completed by Dr. R. Michael Stewart of Temple University. The report appendixes include a skeletal analysis by Dr. T. Thomas Crist, and a dental analysis by Dr. Art Washburn.
*Philadelphia Inquirer Archives are now behind a paywall.
Historical remains to be moved to vault: Reburial of 200-year-old bodies needs judge's OK. Colimore, E. March 25, 2005, The Philadelphia Inquirer.
What to do about the historic remains that lie beneath?, Dilanian, K. February 24, 2002, The Philadelphia Inquirer.
****************************************************************************************
Bethel Burial Ground (Weccacoe Park, Queen Village)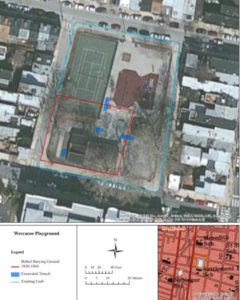 Archaeological Report: Phase IB Archaeological Investigations of the Mother Bethel Burying Ground, 1810 – Circa 1864 (80 pages, large pdf file) ER No. 2013-1516-101-A, Prepared for the Pennsylvania Horticultural Society by Douglas Mooney and Kimberly Morrell of URS Corporation, October 11, 2013. Archaeological Report Appendixes (84 pages, large pdf file) The Appendices include:
Appendix A: Potter's Field and Almshouse Cemeteries in Philadelphia
Appendix B: Hallowed Ground: African American Petitions and Philadelphia's Potter's Field
Appendix C: African American Cemeteries in Philadelphia, 1797–1849 (African American Churches and Burial Grounds, 1780–1849)
Appendix D: Test Trench Plan and Profile Maps (Bethel Burial Ground)
Appendix E: Artifact Tables
Appendix F: Artifact Catalog
Appendix G: Bureau of Historic Preservation Archaeological Report Summary Form
Appendix H: Mother Bethel Burying Ground PENNSYLVANIA ARCHAEOLOGICAL SITE SURVEY PENNSYLVANIA HISTORICAL AND MUSEUM COMMISSION Form
*Read news coverage under heading AME Burial Ground/Weccacoe Park…
**********************************************************************************
Germantown Potter's Field/Queen Lane Redevelopment Project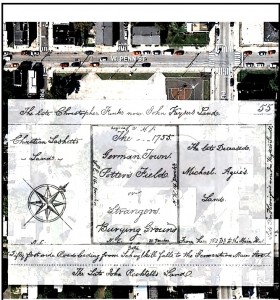 The Philadelphia Archaeological Forum was a Consulting Party to the Philadelphia Housing Authority's Queen Lane development in Germantown. The project involved development in the location of the 1755 Germantown Potter's Field, or Stranger's Burial Ground. Learn more about this project and read The Queen Lane Phase I Archaeological Survey, Geophysical Survey (Grave Detection Delineation Beneath Paved Parking Lot) and Ground Penetrating Radar Survey Results here…
Archaeological Dig at Germantown Potter's Field Site will not start before March
01/25/2012, Newsworks
Queen Lane Apartments demo in limbo as archaeologists, historic-preservation experts plan Potter's Field visit
Three Possible Grave Sites discovered at Potter's field site in Germantown
July 13, 2012, Newsworks WHYY
Underground Search of the Potter's Field in Germantown commences
April 11, 2012, Newsworks WHYY
***************************************************************************************************
Old First Reformed Church of Philadelphia
(Franklin Square, Race Street between 6th & 7th)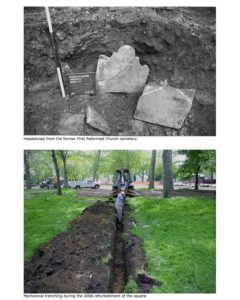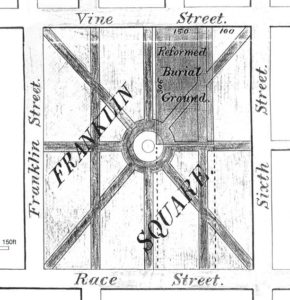 This church burial ground and the reuse of its headstones are reported on in this 2005 report prepared by archaeologists from John Milner Assoc., Inc.
An Archeological Sensitivity Study of Franklin Square, Philadelphia Pennsylvania Leaving No Stone Unturned: Archeological Monitoring and the Transformation of Franklin Square
***************************************************************************************************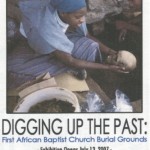 2007 Digging Up the Past: An Exhibit Review [PDF format]. This review presents an archaeological perspective on the First African Baptist Church Burial Grounds exhibit at the African American Museum of Philadelphia (AAMP). The exhibit drew upon archaeological studies at two African Baptist Church burial grounds re-discovered and destroyed in the construction of the Vine Street Expressway. Written by historical archaeologist Patrice L. Jeppson, this article was published in the September 2007 issue of the African Diaspora Archaeology Newsletter.
***************************************************************************************************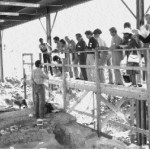 1996 Engaging the Public Through Mortuary Archeology: Philadelphia's First African Baptist Church Cemeteries . This article by physical anthropologist Thomas A. J. Crist and archaeologist Daniel G. Roberts was published in 1996 in the government publication, CRM (No. 10 — 1996, Vol. 9, pages 5-7).
***************************************************************************************************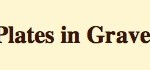 1998 Plates in Graves: An Africanism? Archaeologist John P. McCarthy prepared these comments for a panel discussion entitled 'Lessons from Historic Period Cemeteries'. It includes data on Philadelphia's First African Baptist Church Cemeteries. The talk was held at the 1998 Meeting of the Society for Historical Archaeology, Atlanta.
***************************************************************************************************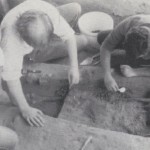 1986 Acculturation in an Urban Setting: The Archaeology of a Black Philadelphia Cemetery" [PDF format, 4.3MB], by Michael Parrington; Janet Wideman, 1986, Volume 28(1), Pages 55-62.
***************************************************************************************************
The Good, the Bad, and the Ugly:
Bioarchaeology and the Modern Gun Culture Debate
[*PAGES 118-119 of which report and analyze gunshot victims in the Philadelphia archaeological record, namely ca. 1750–1799 burials at the Second Presbyterian Church Burial Ground excavated during construction of the National Constitution Center and from the First African Baptist Church Burial Ground, dating between ca. 1810 and 1822, discovered in the 1990's during construction of the Vine Street Expressway.
By Thomas A. Crist
Historical Archaeology, 2006, 40(3):109–130.
In this article, Crist considers "personal gun ownership during the early history of what is now the United States that lies at the root of the modern argument between supporters of gun control and those whose interpretation of the Second Amendment endows private citizens with the right to keep and bear arms". Using historical evidence, including from early burials in Philadelphia, he shows that with growing gun ownership, during and after the 1830s, "an ever-increasing number of homicides (have) resulted from gunfire, particularly in the large cities" (Crist, HISTORICAL ARCHAEOLOGY 40(3):126.
Previously Director of Archaeological Services at Kise Straw & Kolodner Inc. in Philadelphia and now a consultant to AECOM Corporation, Dr. Crist has served since 1990 as the Forensic Anthropologist for the Philadelphia Medical Examiner's Office. He is a member of the U.S. Public Health Service's Disaster Mortuary Operational Response Team (DMORT) and served two deployments assisting in the recovery and identification of victims from the World Trade Center attacks in 2001. Since 1992, Dr. Crist has been an Adjunct Professor at the School of Dental Medicine at the University of Pennsylvania, where he co-teaches an annual short course in Forensic Dentistry and Anthropology every spring. In 1994, Dr. Crist was one of three co-founders of the American Academy of Forensic Science's Young Forensic Scientists Forum and served as the group's first secretary.
***************************************************************************************************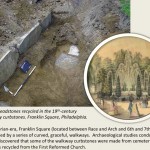 Cemetery Stones with Many Lives
***************************************************************************************************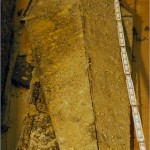 The Buried Past Along Washington Avenue in South Philadelphia
***************************************************************************************************
The Archaeology of Community Identity in the Past and Remembrance in the Present
by John P. McCarthy
American Nineteenth Century History, Volume 9, 2008 – Issue 3: Race, Memory and Reclamation: Social Memory and American Slavery.
ABSTRACT: Based in an enduring belief in a world of spirits and a continuing relationship with one's ancestors, the cemetery became a special venue for the expression of community identity in nineteenth‐century Philadelphia, and it remains a special focus of remembrance in the present for Africans in the Diaspora. This paper summarizes research into African‐influenced, creolized burial practices in antebellum Philadelphia and their implications for the expression of community identity. Archaeology has played an important role in the rediscovery of cemeteries in cities such as Philadelphia and New York, and the paper also considers the relationship of contemporary African American communities with the resting places of ancestors and the role of archaeological research in the process of reclaiming "lost" cemeteries and lost "history."
**************************************************************************************************
Burial Grounds, African
International Encyclopedia of the Social Sciences (contributed by Terrence W. Epperson)
************************************************************************************************
Archaeologist to discuss unusual use of ordinary objects, John McCarthy to speak at Lewes Public Library, Feb. 27, 2016.
***********************************************************************************************
Mutual Burial Ground of Kensington
*Philadelphia Inquirer archives are behind a paywall.
Kensington graveyard rises from the past as developer seeks to build, Philly.com, May 31, 2016.
Tension Between Development And Preservation In Fishtown Project, CBS Philly, May 30, 2016.
**********************************************************************************************
Kensington Burial Ground
*Philadelphia Inquirer archives are behind a paywall.
Philadelphia Historical Commission declines to certify old burial ground, Philadelphia Inquirer, July 10, 2016.
Historical Commission backs certification of Kensington burial ground, Philly.com, June 16, 2016.
Kensington graveyard rises from the past as developer seeks to build, Philly.com, May 31, 2016.
Tension Between Development And Preservation In Fishtown Project, CBS Philly, May 30, 2016.

by admin