2013 Explore Philly's Buried Past! Event [Past Event!]
Back to PAF Home…
Back to Philly Archaeology…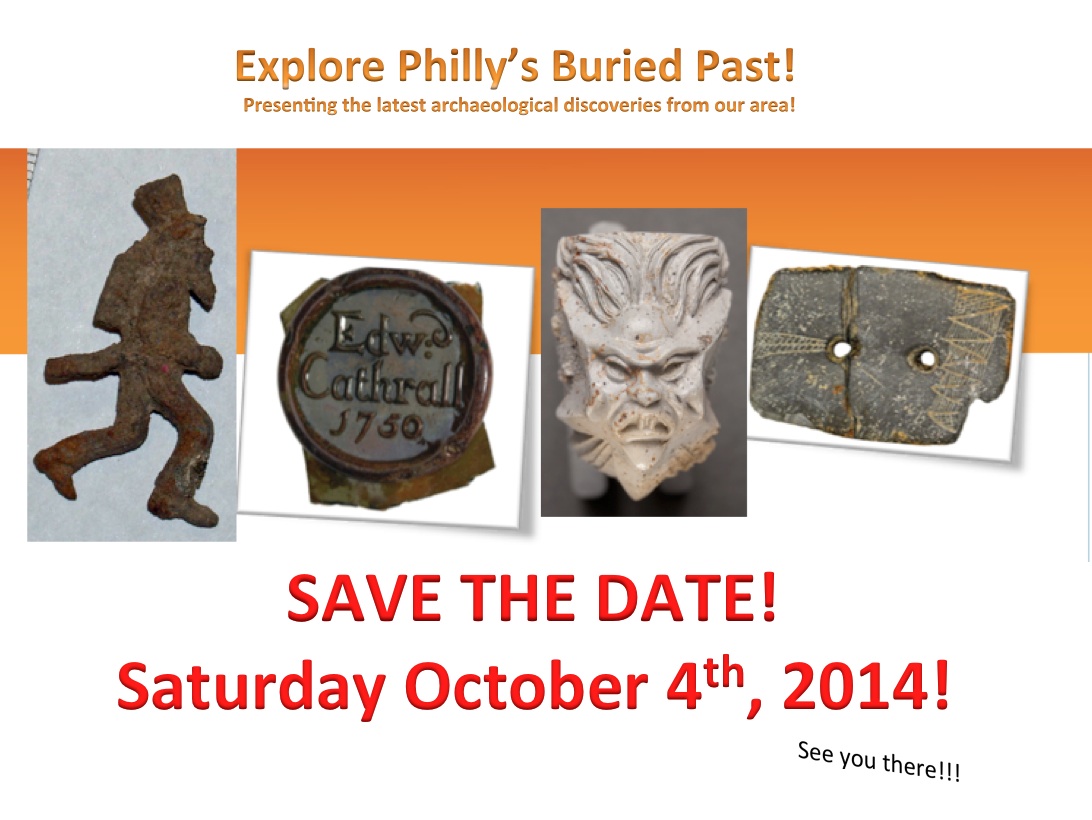 PAST EVENT — 2013!
PAST EVENT — 2013!
PAST EVENT — 2013! PAST EVENT — 2013!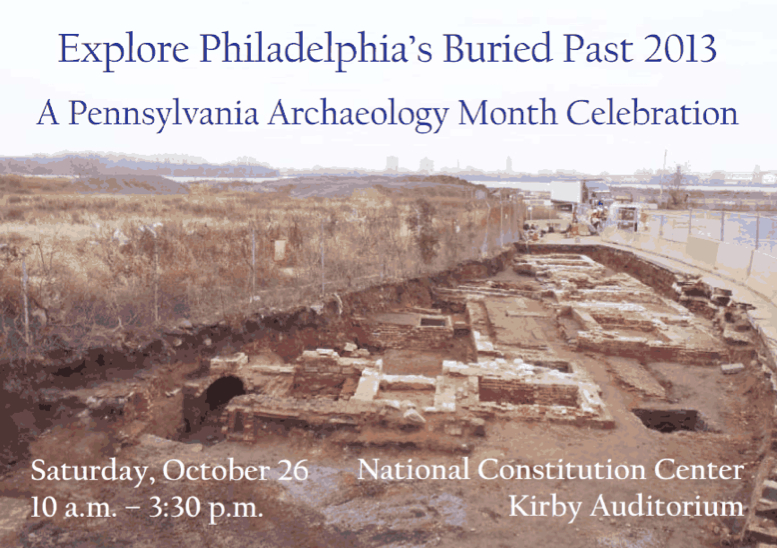 ********************************************************************
PAST EVENT — 2013!!
PAST EVENT — 2013!
EXPLORE PHILLY'S BURIED PAST [PAST EVENT PROGRAM SCHEDULE!!!]
10:00am Welcome (Jed Levin, National Park Service)
10:05am Philadelphia Archaeological Forum 'Year in Review' (Douglas Mooney, Philadelphia Archaeological Forum)
10:20am The Battle of Brandywine: An American Redoubt Hidden in Plain Sight (Kevin Donaghy)
New features on the Brandywine battlefield have recently been rediscovered using mapping technologies, documentary evidence, principles of military terrain analysis, and good, old fashioned, "boots on the ground" research. This new evidence shows what 'memory' and pictorial representations can contribute to traditional historical and military science scholarship.
10:35am Cultivating Philadelphia: Recent Discoveries in Philadelphia Garden Archaeology (Sarah Chesney)
Eighteenth-century Philadelphia was a center of botanical design and display in early America, encouraged and popularized by local elites who created intricate gardens on their country estates. Recent excavations at Stenton, James Logan's plantation in Germantown, and The Woodlands, William Hamilton's estate on the west bank of the Schuylkill River, are revealing the complicated nature of early American landscape design and the role some Philadelphian's played in its development.
10:50am Bartram's Garden: Recent Excavations and Findings from the Late 17th to the Early 18th Centuries (Matthew Harris) Located in the Kingsessing neighborhood of Southwest Philadelphia, historic Bartram's Garden is a crown jewel in the city's history. A recently completed excavation at the South Meadow area of Bartram's Garden documented nearly 4,000 years of Native American and European American history. This presentation will provide an overview of the excavation findings, but will primarily focus on an artifact deposit dating from c.1680 to 1750. Research indicates that these artifacts may belong to Andris Souplis, a French Huguenot and figure in early Philadelphia society.
11:05am The Indian Pole: A Philadelphia Landmark No More (Harry Kyriakodis)
The "Indian Pole" was an ancient Philadelphia landmark once located near 4th and Vine Streets. Standing 85 feet tall, this pole was capped by a 9 foot tall Native American figure, holding a bow and quiver with one arm outstretched. The pole and figure were supposedly erected around 1819 to commemorate the last Lenape council held in Philadelphia. Sadly, the Indian Pole is no more and the site is covered by the Vine Street Expressway.
11:20am ***3-Minute LIGHTENING ROUND #1***
• Man Does Not Live On Bread Alone– There Is Also Candy (Ken Basalik)
The archaeological presence of candy is not easily discerned as much of this "food" was sold by the piece or packaged in paper. In the late nineteenth century and early twentieth century candy began to be packaged in glass containers shaped like toys. These containers were mainly manufactured by a select number of Pennsylvania glass companies until the Great Depression. This presentation will showcase early 20th century candy containers found at a site near Marcus Hook in Delaware County and will provide information on what had been a common, but now mostly forgotten, portion of children's lives.
• The Dennis Farm 3D Barn Model (Zachary Stockmal)
The Perkins-Dennis family, a free African-American family, established a 153-acre farm in 1793 in Susquehanna County, PA. Presently, the family plans to transform their farm into a cultural heritage educational center. The Animation and Visual Effects Program at Drexel University has contributed to their efforts by working to produce a historically accurate 3D model of what the barn that once stood on the property may have looked like. Using information from archaeologists and architectural historians, the long-term goal is to use the model as part of an interpretive digital interactive environment.
• A Scottish Volunteer in Philadelphia? (William Bulger)
Fragments of a brass Scottish Artillery helmet plate (ca. 1880-1908) were recently recovered from a brick privy shaft in the Fishtown neighborhood of Philadelphia. Research regarding the history and context of this unusual artifact will be presented, along with the results of efforts to find out how it might have made its way to Philadelphia.
• Dish Networking: A 19th Century Presidential Campaign Plate (Lou Magazzu)
On Election Day in 2012, archaeologists excavating on a Pennsylvania Department of Transportation project unearthed an electoral campaign artifact from the past– a redware plate bearing a trailed slip decoration that read "H. CLAY 1844". The plate is a promotional item dating to the unsuccessful electoral campaign of Henry Clay who ran for the office of the U.S. President in 1844. Clay served multiple terms as Speaker of the U.S. House of Representatives. He was also elected to the U.S. Senate and served in the Presidential Cabinet as Secretary of State. He ran and lost campaigns for the office of the U.S. President in 1824, 1832, and 1844. This election artifact provides a unique link between Philadelphia's historic Fishtown neighborhood and one of the United States' most important presidential campaigns.
• The "Infamous Den" of Arthur Chambers: "Champion's Rest" Saloon Token (Tom Kutys)
A unique, red, vulcanite token was recently discovered during archaeological excavations in the Fishtown section of Philadelphia. The token was produced by the "Champion's Rest" boxing saloon who traded tokens as change during payment transactions with patrons. The token would have been in circulation during the saloon's period of operation,sometime between 1875 and 1896. The "Rest", which was operated by retired, bare-knuckle boxer, Arthur Chambers, was notorious for its disreputable patrons and frequent disturbances.
11:40am 'The Fathers and Mothers of Our Israel': Rediscovering the Mother Bethel Burying Ground 1810-1864 (Douglas Mooney) Beneath portions of a city-owned playground in the Queen Village neighborhood of Philadelphia lays an early black cemetery. As is often the case with early burial grounds, knowledge about this cemetery became lost to common memory over the generations. Originally purchased by Reverend Richard Allen and the Trustees of Mother Bethel African Methodist Episcopal Church, this hallowed ground could hold the remains of several thousand congregants and other members of Philadelphia's historic African American community. Recent archaeological studies are helping to ensure the long-term preservation of this once forgotten but important burial ground.
12:00-1:45pm LUNCH BREAK —Touch-Screen Archaeology: An Interactive Exhibit View archaeological discoveries from the Pennsylvania Department of Transportation's I-95/Girard Ave. project during the lunch break. URS Corporation has created a prototype interactive report for this project and will have this touch-screen presentation available in the hallway adjacent to the Kirby Auditorium. Intended for use by members of the public and professional alike, this new report format is web-based, intuitively organized, fully searchable, and accessible through any computer or smart technology enabled hand-held device.

1:45pm The Little Sanctuary on the Mountain: Mount Gilead AME Church, It's Cemetery and Community (Megan Ratini)
Outside of Philadelphia's bustling 19th African American community, freeborn African Americans and those who emancipated themselves from slavery settled into rural areas for protection and camaraderie. Established in the decades before the Civil War, these communities were often oriented around a house of worship, such as Mount Gilead AME Church in Buckingham, Bucks County. Although the community which originally supported Mount Gilead has mostly dispersed, this church and its cemetery offer a glimpse into the lives and struggles of the people living there in the nineteenth century. By conducting a survey of the cemetery — both above-ground and non-invasively below ground, as well as by exploring the archival and oral history of the site, more of Mount Gilead's past is coming to light.
2:00pm Franklin Court: Re-dux (Debbie Miller)
One of the earliest archaeological undertakings in the city of Philadelphia took place in 1953, at the site of what became known as Franklin Court. Over the next twenty-plus years, archaeologists labored through streets and basements, privies and wells, foundations and ice pits to discover the eighteenth century world that Benjamin Franklin, his family, and tenants called home. In celebration of the recent reopening of Franklin Court Underground Museum by the National Park Service, this presentation revisits the history, archaeology and legacy of this American shrine.
2:15pm ***3-Minute LIGHTENING ROUND #2***
• How Did That End up in the Trash…? (Jed Levin)
A rare, 'William Will' pewter plate was recovered in a privy during archaeological excavations at the site of the National Constitution Center site in Independence National Historical Park. William Will worked as a pewterer in Philadelphia for a short period during the late 18th century, and is considered by many to be the finest American Pewterers of his time. Pewter is a relatively rare find on 18th century sites. When damaged or worn out it still had value as scrap, so was rarely discarded with the trash. Why did this plate land up in a privy? Possible answers to that question offer opportunity to ponder why some things end up as part to the archeological record and why some things don't.
• Portable Earthenware Furnaces: History's Hotplate (Alexander Keim)
The experience of Philadelphia potters in working with fire-proof and heat resistant ceramics led to the manufacturing and marketing of a very popular product: portable earthenware furnaces. These furnaces were designed to safely contain hot coals and be easily portable, and were used as space heaters in winter and as a way to cook during the summer months without lighting a fire in an already hot kitchen. An example of this kind of artifact, recovered from Independence Park, displays the ingenuity of Philadelphia craftsmen and is a reminder of the material culture that contributed to daily life in the 19th century.
• Milking the Empire: The State of the Nation on Creamware (Debbie Miller)
The political cartoon, "A Picturesque View of the State of the Nation for February 1778", mocked the ill effects of the American Revolution on British commerce, as well as the revelry and merriment enjoyed by the Howe Brothers during their occupation of Philadelphia in 1777-78. While ceramic artifacts printed with the cartoon image are well known in the world of decorative arts, only one example has been recovered archaeologically in America. Excavated at the site of the National Constitution Center site in Independence National Historical Park, the fragmented corner of a creamware dish shows only a partial image, but speaks volumes about the story telling abilities of the smallest of artifacts.
2:25pm Life on the Philadelphia Waterfront, 1687-1826: The Area F Site in Independence National Historical Park (Juliette Gerhardt) Excavations of the basements of warehouses between Front and Second Streets in Philadelphia reveal a snapshot of Philadelphia when the city was still a "green country towne". Artifacts belonging to a mariner, a baker, a carver/graver, an optician, a silversmith and a dry goods merchant survived for two hundred years beneath the ground and today these shed light on the daily lives of forgotten artisans and early city dwellers. This survival reminds us of the entrepreneurial spirit of Philadelphia's Quaker founders and the important connection the city has always had with its waterfront.
2:40pm "Just Below Your Feet"Short Video Screening (Introduced by filmmaker Stephanie Bowen)
This video examines the current state of archeological preservation in the Commonwealth of Pennsylvania. The work focuses on why archaeology is important to the people of Pennsylvania, and how recent changes to state law have affected the practice of archaeology in the Commonwealth. The video is a shorter version of a longer documentary produced as an independent study research project by two archaeology students from Lycoming College.
3:00pm Awards Ceremony
Presentation of the 2013 Philadelphia Archaeological Forum Award of Merit. Established in 2012, this award recognizes individuals and or organizations whose actions have helped preserve, protect, and or educate others about the archaeological resources of the Philadelphia area. One or more of these awards may be bestowed annually. In 2013, the Philadelphia Archaeological Forum recognizes the following individuals for their actions in preserving, protecting and or educating others about the archaeological resources of the Philadelphia area:
Award of Merit recipient Daniel G. Roberts
Award of Merit recipient Michael Parrington
3:30pm Program Concludes+++++++++++++++++++++++++++++++++++++++++++++++++++++++++++++++++++++++++++++++++++++++++++++++++++++++++++++++++++++++++++++++++++++++++++++++++++++++++
Every October, PAF co-sponsors the Explore Philly's Buried Past event with the Independence National Historical Park Archeology Lab. October is Pennsylvania Archaeology Month and National Archaeology Day also falls during October. This annual Explore event brings forth to the public the latest archaeological artifacts and site discoveries from the tri-state area. Independence Park kindly hosted this event from 2007-2009. The National Constitution Center hosted from 2010-Present, with the Independence Seaport Museum hosting a portion of the 2012 program. URS Corporation kindly donates the production of the publicity materials and Independence National Historical Park assists with the postal mailing of these materials. The archaeologists and archaeological enthusiasts in the region–including student archaeology club members, avocationalists, teachers and historians–present these latest research findings pro bono joining PAF's effort to encourage interest in, and support for, the area's archaeological heritage.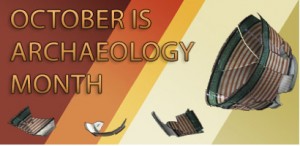 Learn about the PECO 'Crown Lights' Public Service Announcement here…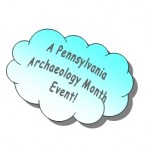 View PAST PROGRAM SCHEDULES, 2012-2008 here…


by admin