Home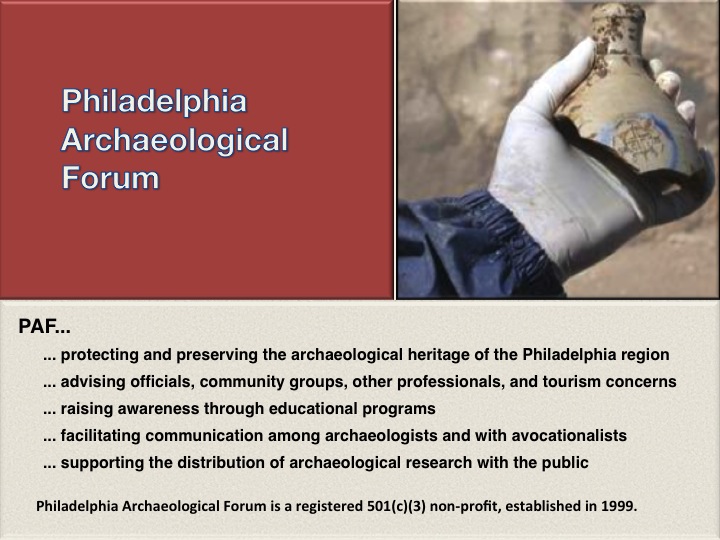 Learn about PAF here…

__________________________________________________________________________
ARTIFACT OF THE MONTH
April – 2015
Coinage Across the Colonies
Learn more about this artifact here…
Artifact of the Month Index
__________________________________________________________________________
UPCOMING EVENTS…
*******
DIGGING I-95: NEW DISCOVERIES IN EARLY AMERICAN GLASS
Thursday, May 28th 6pm (at the Philadelphia Archaeological Forum monthly meeting [Room 349 of the URBN Center, Drexel University])
Today as you walk beside the Delaware River in Kensington, you will see no evidence of the glass furnaces that stood along its banks from the 1770s to the 1920s. However, the I-95 Improvement Project excavations, conducted by AECOM on behalf of PennDOT and the Federal Highway Administration, are yielding an extraordinary assemblage of glass 19th-century glass that reveals how this ubiquitous material shaped the identity of the neighborhood. Ms. Mills will discuss some of the rare whimsies and flint glass artifacts, as well as the techniques used to make them.
Mary Mills is the Historic Glass Specialist for AECOM and previously held the position of Education Programs Manager at The Corning Museum of Glass. She lectures extensively and teaches for graduate programs at Sotheby's Institute of Art, Winterthur Museum, and the Smithsonian.
________

by admin