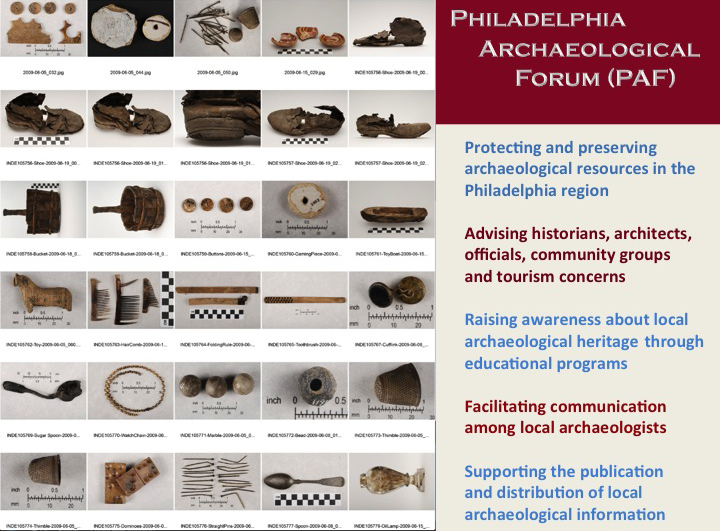 Learn ABOUT PAF…
FEATURED ARTIFACT OF THE MONTH
May, 2013
"Champion's Rest" Saloon Token

Read about this month's FEATURED ARTIFACT…
FEATURED EVENT
Logan's Lost Landscape: Redefining Stenton's Eighteenth Century Environs
Location: Stenton, 4601 N. 18th St.
Date: June 1, 2013
Time: 1:00 PM
Description: Modern day visitors to Stenton may find it difficult to imagine it as it was in the eighteenth century, a country house surrounded by more than five hundred acres of pastures, orchards and fields. Long gone is this natural environment, as are the buildings and gardens that once encircled the main house. Recent archaeological excavations in the front yard of Stenton have revealed elements of the original Georgian landscape including garden walls and possible planting beds. Join us at Stenton on June 1st for a lecture and discussion by Archaeologist Debbie Miller, as we discuss Stenton's landscape and the discoveries of our most recent archaeological investigations Free, reservations requested. Please call 215-329-7312 or email programs@stenton.org for reservations.

Debbie Miller is an Archaeologist at Independence National Historical Park in Philadelphia. She has served as consulting Archaeologist at Stenton since 2006, leading the excavation of Stenton's forecourt in 2011-12. Debbie earned her M.A. in American studies from the Pennsylvania State University, and B.S. in Anthropology from Virginia Commonwealth University.
Learn More here…
FEATURED Streaming (On-Line) Video
Just Below Your Feet
One Archaeologist. One Filmmaker. One Law. This 15 minute, video short, from a longer film created by students Stephanie Bowen and Sarah Griggs, interviews Pennsylvania archaeologists about Act 70. This amendment, which was backed by developers, changed the state history code and significantly impacted archaeological preservation in the Commonwealth. The video segment (on YouTube) includes an interview with PAF member Douglas Mooney and contains visuals of the President's House Site in Independence National Historical Park as well as PAF-related Archaeology Month publicity materials. Watch it here…
2012 PHILADELPHIA ARCHAEOLOGICAL FORUM AWARDS

Learn aboutthe 2012 Award Recipients…