Home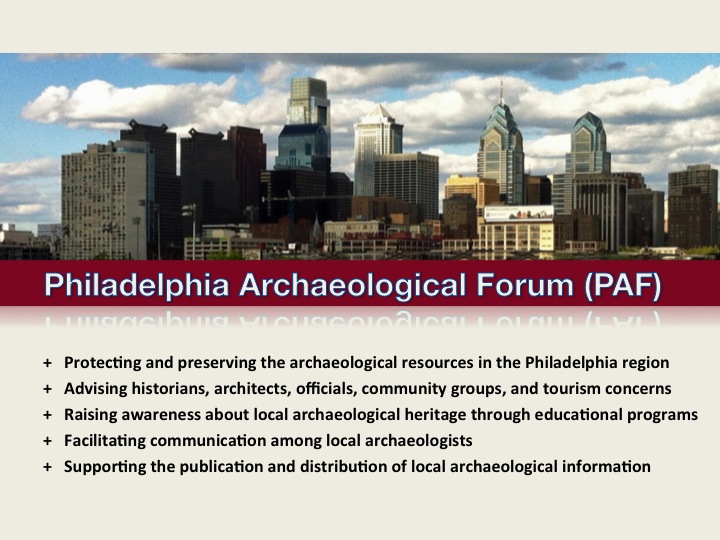 Learn about PAF click here…
___________________________________________________________

ARTIFACT OF THE MONTH — April 2014
Political Pottery

Learn about this artifact here…
___________________________________________________________
PAF ACTIVITIES — UPCOMING WORKSHOP
IN PARTNERSHIP WITH TRI-STATE COALITION OF HISTORIC PLACES
Underground Historic Sites:
Protecting, Exploring, and Interpreting Your Archaeological Resources
This workshop will teach about the legal and ethical requirements, methods, and costs of archaeology at historic sites. Discussion will focus on the care and management of archaeological sites and collections and how to plan for an archaeological dig at your historic site.
Workshop Leaders: Debbie Miller (Archaeologist, Independence National Historical Park); Dennis Pickeral (Director, Stenton); Doug Mooney (President, Philadelphia Archaeological Forum); Jed Levin (Archaeologist, Independence National Historical Park)
When: April 14 and 28, 2014 — 10:00 a.m. to 3:00 p.m — Participants must attend both sessions.
Where: Stenton, 4601 N. 18th Street Philadelphia, PA 19140
Cost: Current Tri-State Coalition of Historic Places Member: $30
New Individual Tri-State Member: $60
New Institutional Tri-State Member: $70 (may send up to two attendees)
REGISTRATION & INFORMATION (Sustaining Places Workshops
Museum Studies Program, University of Delaware website)
____________________________________________________________
IN MEMORIAM: DANIEL CROZIER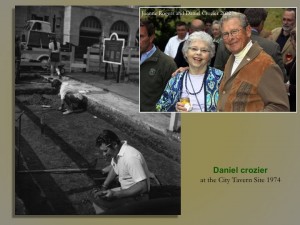 It is with sadness that the Philadelphia Archaeological Forum informs you of the passing, on December 19th, of Daniel Crozier. As anyone familiar with Philadelphia archaeology knows, Dan's contributions were pioneering and immensely important. Dan helped nurture the development of urban and historical archaeology in Philadelphia. He gave invaluable support to the founding of the Philadelphia Archaeological Forum – our group, whose mission is to protect and preserve the archaeological resources in the Philadelphia region. In 2012, the Philadelphia Archaeological Forum bestowed one of its inaugural Awards of Merit to Dan in recognition of his many contributions. Dan's passing is a personal and professional loss to many of us. Our condolences go out to his friends and family.
___________________________________________________________
BETHEL AME BURIAL GROUND/QUEEN VILLAGE WECCACOE PARK EXCAVATIONS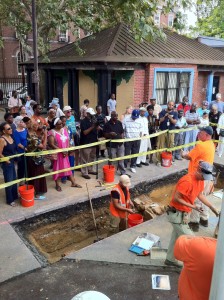 Philadelphians visit the site of Bethel AME's original burial ground on July 24th, 2013. Lost to time, the forgotten cemetery is today the location of a neighborhood park in the city's Queen Village neighborhood. Numerous interested parties have united to ensure that the cemetery is archaeologically investigated prior to any park renovations. The exploratory excavation is designed to determine the depth and location of any burials. No burial remains are removed or disturbed in this archaeological study to determine the original cemetery ground surface. Archaeologists are shown here depicting the excavation findings to the visiting public. (Photo by P.J. Jeppson)
Learn more about the Bethel AME Burial Ground/Queen Village Weccacoe Park excavations and read the Archaeological Report here…

___________________________________________________________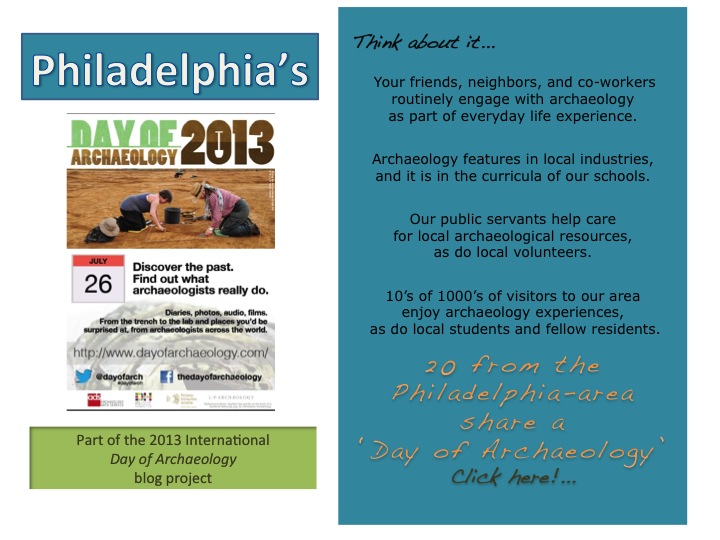 Read about PHILADELPHIA'S DAY OF ARCHAEOLOGY, 2013…

___________________________________________________________
Continuing News
Queen Lane Redevelopment Project

Philadelphia Archaeological Forum is a Consulting Party to the Philadelphia Housing Authority's Queen Lane development in Germantown. The project is in the location of the 1755 Germantown Potter's Field, or Stranger's Burial Ground.
Learn more about this project
here…

___________________________________________________________
FEATURED Streaming (On-Line) Video
Just Below Your Feet
One Archaeologist. One Filmmaker. One Law. This 15 minute, video short, from a longer film created by students Stephanie Bowen and Sarah Griggs, interviews Pennsylvania archaeologists about Act 70. This amendment, which was backed by developers, changed the state history code and significantly impacted archaeological preservation in the Commonwealth. The video segment (on YouTube) includes an interview with PAF member Douglas Mooney and contains visuals of the President's House Site in Independence National Historical Park as well as PAF-related Archaeology Month publicity materials. Watch it here…

___________________________________________________________
FEATURED ARCHAEOLOGICAL RESEARCH PRESENTATION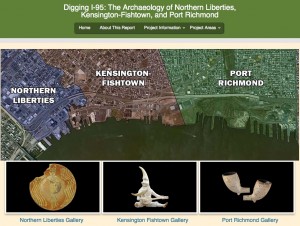 Learn about archaeological discoveries from the Northern Liberties, Kensington-Fishtown, and Port Richmond neighborhoods of Philadelphia using this cutting edge, interactive, digital report…

by admin