Home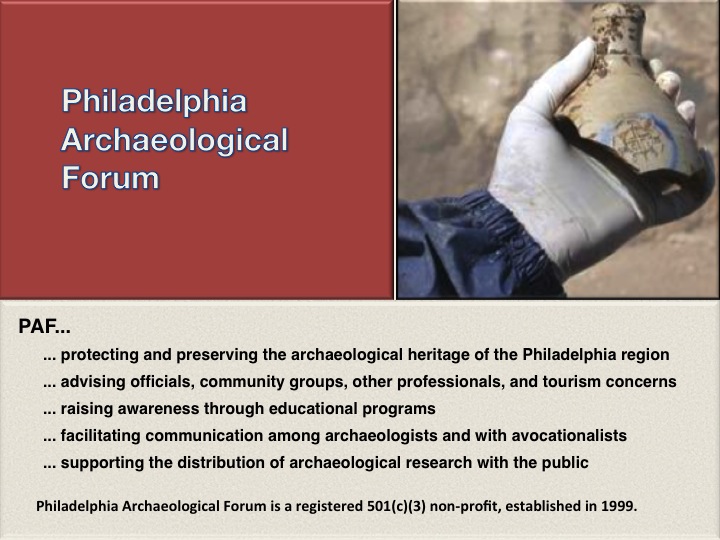 Learn about PAF here…

__________________________________________________________________________
ARTIFACT OF THE MONTH
March – 2015

Learn more about this artifact here…
Artifact of the Month Index
__________________________________________________________________________
UPCOMING TALKS
MARCH 31
THE HIDDEN CITY:
ARCHAEOLOGY OF PHILADELPHIA

Rebecca Yamin, PhD, takes us on a trip down Alice's rabbit hole – digging underneath parking lots, National Park sites, and demolished buildings, she uncovers Philadelphia hidden past through fragments and trash left by our predecessors. Recent sites covered during her talk include the President's house in Independence Mall, Revolutionary camp sites in Valley Forge, and workers' houses where the Pennsylvania Convention Center now stands. This is the 4th talk in the Architectural Institute of America Philadelphia's 10-part series, Building Philadelphia: Architecture, History, + Politics.
THURSDAY, APRIL 2ND
Where the Ancestors Slumber: African American Cemeteries and Burial Sites in Philadelphia 1682-1849
A talk to be presented by archaeologist Douglas Mooney
6pm at Drexel University's URBN Center
3501 Market Street, Room 349
Open to All. No RSVP necessary.

ABSTRACT: By the mid-19th century, members of Philadelphia's African American community had been interred in a series of burial grounds, churchyards, and cemeteries spread throughout the city. However, today the stories of these ancestral grave sites have often been forgotten, and in many cases the burial grounds themselves no longer exist or have been moved to new locations. This presentation will discuss the complex topic of early African American burial grounds and cemeteries within the broader context of Philadelphia's history, and will provide information about where these sites were located. It will also discuss which of those burial grounds are known or are thought to still survive, and describe archaeological efforts to identify and preserve early historical black cemeteries in the city.

by admin